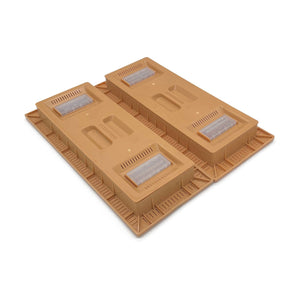 A pair of Apimaye top half feeders for 10 frame boxes. Our half feeders are just like our nuc feeders but wider to accommodate our full size hives. When inspecting your hive, you can simply put one of your feeder on top of the other, do your inspection, put it back, and inspect the other side. 
These half feeders also enable the hives to be fed both syrup and cake at the same time. Simply put syrup on one feeder, and cake on the other. Make sure you set the feeder caps accordingly.
Our half feeders can also be used for your 5 frame nucs!