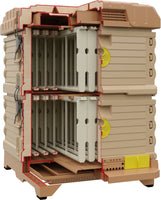 Next Generation Bee Hive
The Apimaye beehive was developed to make it easier to manage a colony of bees and produce more honey. 
The innovative all-round double layer insulation helps keeping the colony warm in the winter and cool in the summer. A special filling material used in the top cover and side walls of Thermo Hives provides thermal insulation, offering a suitable habitat for the colony in different climate conditions.
Explore the most advanced bee hive
Thermal Insulation & Active Ventilation
With the R value 6.93, Apimaye Thermo Bee Hives are more than 6 times more heat insulating than wooden hives.
The design of the hives allows the incoming air from the screened bottom board, rise all the way through the ventilation ducts, and exit through the louvres on the hive top cover. This enables an effective air circulation in the hive. The ventilation system prevents any rise of humidity in the hive, preventing any yeast or mold formation, increasing the survival of colonies during winter.
See it in action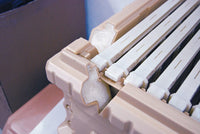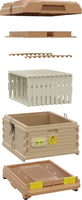 Everything in One Package
Apimaye Thermo Hives are designed and include several accessories as standard such as queen excluder, removable bottom tray (Traps Varroa mite and small hive beetle when used with a sticky board), pollen trap, entrance reducer, mouse guard, top feeder, lock and latch handles, plastic frames, division & uniting board to provide all beekeepers needs and requirements.
Learn More
Family of Beekeepers
Located in sunny Arizona, we are a team of a beekeeper (my dad – a world known professor on honeybees), queen bee (my mom – a retired civil engineer and a beekeeper by marriage) and 2 worker bees (me – an electrical engineer and beekeeper by proxy, and my sister - an administrator) with decades long experience in beekeeping.
Check out our story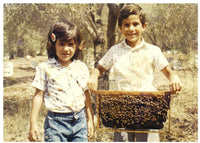 Testimonials
Simply the best. I live in sub-zero temperatures in the the winter in the Upper Peninsula of Michigan. These hives keep my bees toasty warm in the winter with perfect ventilation for zero moisture. Cool in the summer... the bees don't work as hard to heat and cool the hive and are able to work more efficiently... which equates to more honey in my honest opinion.

Tom Rosemurgy
These hives speak for them selves. The quality is amazing I would recommend this to any bee keeper.

Dominic Price
Best product and service available for beekeeping. I understand that the Apimaye would be too expensive for the mega honey producers but it's perfect for the small beekeepers.

Wilmer Gingerich
Easy to use and one hive actually made it through the harsh Minnesota winter this year!

Cathy McNeff Shaw
Makes being a beginner beekeeper less stressful.

Dan Misuraca
Love it so far. I think it will be great for this crazy Texas weather

Jennifer Dotson